LOLA – The T70 & Can-Am Cars
At 576 pages, it's a lot of Lola.
Often considered the most beautiful Can-Am car ever built, the T70 has a special place in the hearts of many of us. When first seeing the Mark Donahue car in its deep Sunoco blue unload at Mid-Ohio for a USRRC race, I remember that I was immediately smitten.
By Don Taylor
Mon, Jun 20, 2022 12:15 PM PST
Photos courtesy the publisher.
LOLA - The T70 & CAN-AM CARS by Gordon Jones is a hefty volume that is most welcome, gathering so much information together in one place. It took decades to research and write it, and one can see why. At 576 pages, in a large format, and weighting in at six pounds, it's a lot of Lola. Yet, so eager was I to read it that I took it on the airplane for some light reading on a cross country trip. Cracked open, its nineteen and a half inch wingspan more than filled the fold-down tray, taxed the tray's strength, and with coach class seat width being 17 to 18 inches, tested my seatmate's tolerance as well. But it kept me engaged for thousands of miles, even if I had to pass up the drinks and snacks.
Following the Forward written by Richard Attwood and George Follmer, the book begins predictively with the birth of the Lola company by its founder Eric Broadley. After selling a series of successful small displacement sports-racers and open wheel cars, it was the attention-getting Lola GT, a unique, mid-engined, American V8 powered prototype coupe, which led to Lola being hired by Ford to design, with their help, the Ford GT40.
Just as the Lola GT is credited with being the forerunner to the Ford GT40, it is also a close relative to the Lola T70. That bloodline runs through the monocoque chassis concept, suspension, and other shared detail. Remember at that point, the McLaren sports racers, and all the other customer race cars were still tube-framed.
The majority of the book's chapters cover the race by race, and year by year story of the T70 and its follow-ons in competition, in a chronological order. In each race Jones names which drivers were in which Lolas, all of them by chassis number, and how they did, while not ignoring the other major competitors as he summarizes the race. It led me to reminiscing about those races to which I had been, or to recall reading about the others, shortly afterward in Competition Press. By the way, much of that coverage was written by Pete Lyons, one of our great SoCal auto writers.
Memories were also brought back by the 600 photos the author collected. Beside the obligatory action shots of the cars on track with the hero drivers, Jones has unearthed so many casual, family photo-album-like shots of cars resting in the grass or gravel of the paddock, being worked on in the pitlane, or heading to Tech. And not just photos of the big guys, but the sportsman drivers too.
Along Gordon Jones' nostalgic journey through times past, he zig-zags between what was happening in the North American series, primarily the USRRC and CAN-AM, and on the international scene with races in Europe, Australia, New Zealand, Japan, South Africa...
With no need to speed the journey along, the author also inserts many informative sidebars along the way such as "Steve McQueen's Star Cars", "Aston Martin's Protracted V8 Project", and "Lolas in Brazil".
The timeline continues on with the T70's successors, the T160, T163, T165, the T220 - most notably driven by Peter Revson, along with the blunt nosed, troubled T260 which still won two Can-Am races with Jackie Stewart, and finally the T310. All were less successful than the T70 on the track, less memorable, and not as good looking either.
The T70 was more competitive in the early USRRC years than in the Can-Am series. After John Surtees 'factory' T70 won the Can-Am's inaugural year championship in 1966, newer car designs came along, and the McLarens took over the popular Canadian/American Series. However short-lived the T70 Spyder's Can-Am dominance was, it was the T70 Coupe that continued to win in international competition for several more years, and that is thoroughly covered in this amazing tome as well.
But wait, there's more! Approaching the book's finish line, as if not wanting to leave anything out, Jones kept writing new chapters, even on into the Appendix. One is dedicated to restoration of owner/driver Allen Grant's original prototype Lola GT. And another is on the movement at the time in road racing to the big displacement, high torque, pushrod V8 engines, and recognizing their famous builders, like TRACO. That is all in addition to the extensive Bibliography, 67 pages of Race Records, and the Index, which stretches nine pages in teenie, tiny typeface in order to fit in every person and topic mentioned in the previous 567 pages.
Although the original Lola company is now gone, its memory lives on for its many former drivers and employees, with Lola vintage car racers, and all of us who loved the vehicles this amazing company produced.
Other titles to check out covering the Lola T70 story are Haynes T70 Owner's Workshop Manual and of course, John Starkey's frequently updated Lola T70 volume along with his others on Lola history, and Dave Friedman's Lola: Can-Am and Endurance Cars. Plus, there's Pete Lyons' book Can-Am, and Can-Am 50th Anniversary by George Levy. Those all reside in my library, along with various issues of '60s Sport Car Graphic and Road & Track magazines which featured stories on the Lola T70 with their much-studied cutaway drawings.
But if you are a Lola T70 fan at all, seeking its most complete history in one place, you'll want to have this book!
Contributor Taylor isn't kidding when he tells of how much he thinks of the indelible Lola T70 racing car. The other day a quick inventory of a storage unit that he rents noted a brace of T70 slot car models from the '60s ...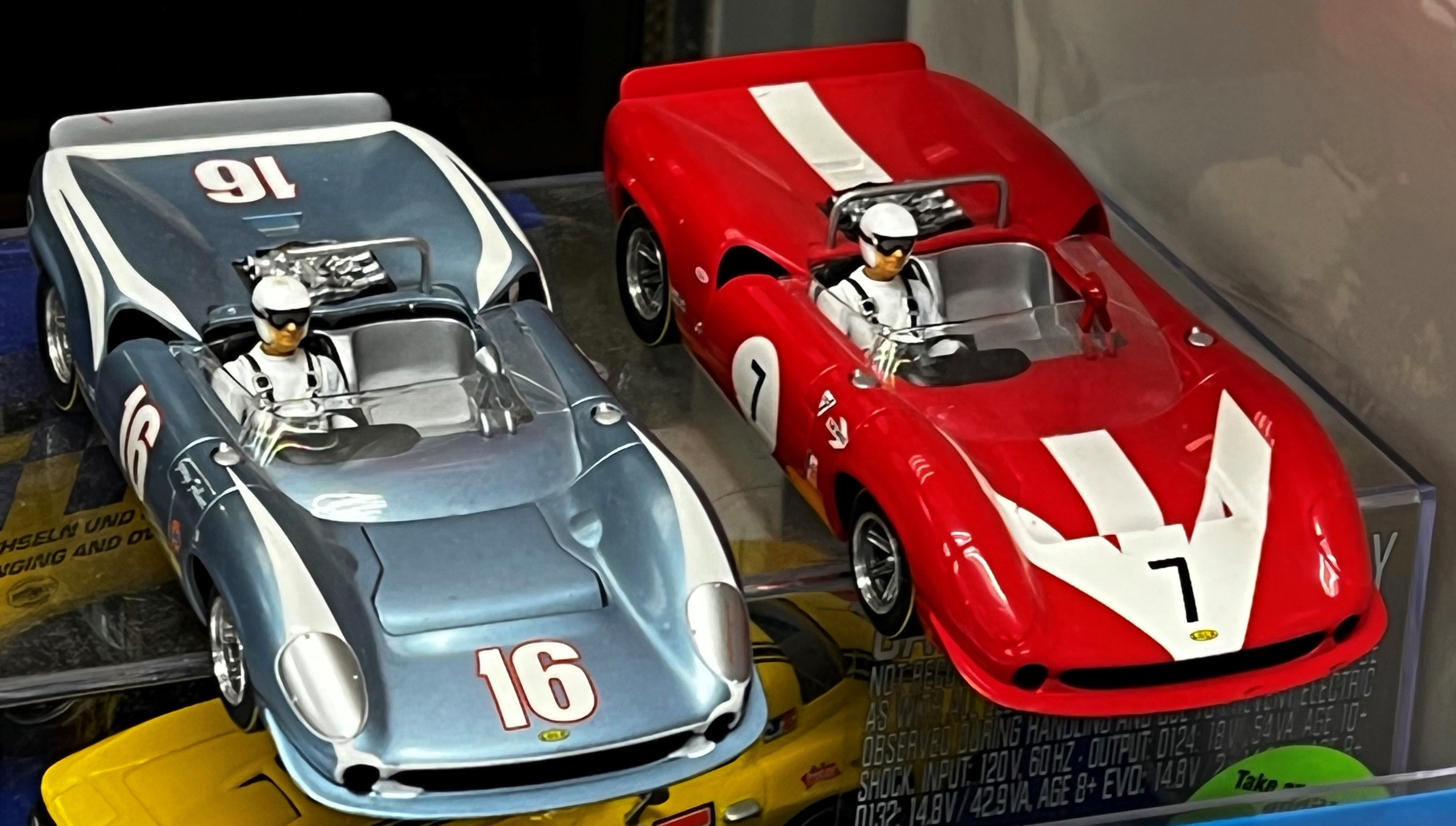 George Follmer's unmistakable ice-blue #16 Lola and the great John Surtees' Riverside winning car here both look ready to race 1/24th scale ... Please note that as rare as these two are, trust me, they'll NOT be up for bid on eBay any time soon. - Stokes
Don Taylor formerly ran the NASCAR program for General Motors, worked as a car stylist at the Ford Motor Company, and as a National Tech Director for the NHRA. He currently serves as Director of the Stand 21 Safety Foundation, and for the UK's Motorsport Industry Association. Taylor also writes articles for the UK's Racecar Engineering magazine. Don currently lives in Boston, but makes frequent trips to Charlotte and to the West Coast, still owning a home in Pasadena.
You Might Also Like These Articles: